Lodging and Travel Information
Venue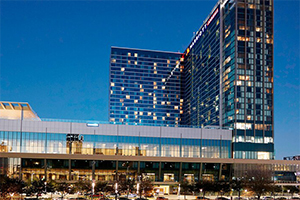 Marriott Marquis Houston
1777 Walker Street
Houston, Texas 77010
Visit Website
Directions and Parking
Transportation Information
Hotels
All participants are responsible for all travel and lodging arrangements.
---
Marriott Marquis Houston
1777 Walker Street
Houston, Texas 77010
Government Per Diem Rate:
$125 per night
(plus 17.82% tax, plus $2.00 per guest room per night short-term fee)
Please note the group rate will be honored three (3) days before group arrival and three (3) days after group departure based upon availability.
Group Code: IHS Partnership Conference
Reservations should be made by using the link below
Reserve Online
Lodging "Cutoff" Date: Friday, June 19, 2020
All rooms must be reserved on or before this date. All unreserved rooms will be released on June 19.
IMPORTANT:
The hotel has waived the one nights' room deposit.
Participants are responsible for lodging costs and are to be settled directly with the hotel. Please assure credit card authorizations or official company checks are coordinated and delivered at or before arrival at the hotel.
Check-in time is 4:00 pmCheck-out time is 12:00 pm
---
Policy HHS 5.1.5:
Exemption from State or Local Tax on Hotel / Lodging Accommodations
The FTR requires employees on official travel to exercise the same care in incurring expenses that a prudent (financially responsible) person would exercise if traveling on personal business. This includes claiming a Federal exemption from payment of state and/or local taxes on lodging wherever this option is available to employees on official travel. Not all states and localities offer tax exemption, and some locations do not specify a particular form on which to claim it.
HHS travelers are expected to inform themselves about the tax exemption status of each location prior to departing on official travel, and they should make every effort to obtain and use any locally approved lodging facility tax exemption form. If official travel takes place in a location where the property is listed at GSA's Website or the SmartPay website, and the traveler's voucher claim includes domestic lodging tax reimbursement, the traveler must have made every effort to obtain the lodging tax exemption and failing that, include proper justification in the "Comments" block of the voucher.
Employees should inquire at the lodging check-in desk about availability of state and/or local tax exemption for Federal official duty travel. In the event there is no locally approved or lodging facility-provided form, the traveler should present a copy of his/her official Travel Authorization with their Government ID card and Government Travel Charge card, if applicable, to the lodging facility in order to find out whether the facility might be willing to offer lodging tax exemption.
Download Tax Exempt Form